Commercial Video Production Services - Event Videography - Pre, Post Editing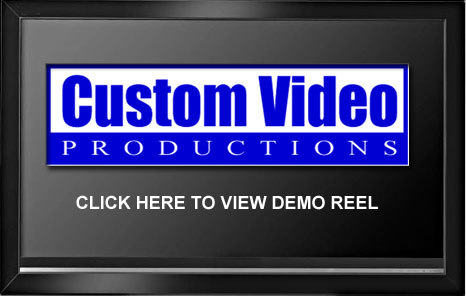 Custom Video Productions is a Full Service HD Direct Response Commercial Video Production and Marketing Facility that offers a complete spectrum of services under one roof. Since 1990, CVP has produced thousands of TV-Commercials, Infomercials, Industrial, Training, Website, Event and Marketing Videos. Our Demo Reel is available to view online below. CVP features the latest State-of-the-Art Technology and Creative Personnel to maximize a project's full potential. The FAA has granted Custom Video the exemption to be able to fly our drone for commercial video business.
CVP takes any size project from Concept to Completion, on time and on budget. Our Video Editing services facility are ready to meet whatever challenges your project demands. No Project to large or small.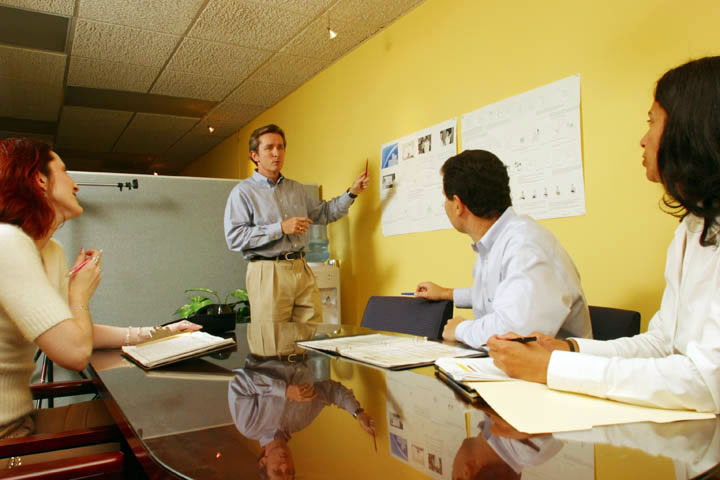 From Proposal to Profit, we take the stress out of Marketing your Idea, Project or Company. Maximize the Return On YOUR Investment (ROI).
Services we offer:

Video Production/Editing service
Event Video Production
Infomercial Production and Editing
Television Commercial Shoot
Training Video Production and Editing Service
On-Camera Training/Coaching
Video Business Cards
Legacy Films/Videos
Corporate Video Production/Company movies
Color Correction Service
Voice Over Recording Service
Transcription Services - Closed Captioning
Video Audio Translation Services
Media Placement & Airtime Services
Demo Reel Editing Service
Live Webcast Production Service
Promotional Video Production and Editing Service
Event Video Production - Plays, concerts, etc. with multiple cameras and editing.
Photo montage - Funeral Video Presentation - Power Point photomontage editing service - Slide Scanning Service, Photos, Negatives
Aerial Video Production (plane, drone video) with FCC section 333 exemption permit number 12950.
Play Video Recording / Sports / Live Performance Recording - Capture



Television Media Planning & Development
With over 28 years of experience (since 1990), Custom Video Productions is ready to listen to your needs and develop a Video Marketing Campaign that best fits your Project or Company. Our full service process is broken down into six phases:

1. Pre-Production
Consultation and Business Review
Detailed Planning
Research & Project Development
Storyboarding
Location Scouting
Permit Acquisition
Casting
On-Camera Coaching
Scripting - Script Writer
Complete Art Direction
Set Design
Logo Development
2. On Set HD Video Production
Set or Studio Production
Field/Location Production
Multi-Camera Set-Ups & Jib Shots
Steadicam Production
Aerial Video Production from Drone Video Camera (with FCC permit exemption #12950)
Live Switching
Experienced Direction
On-Set Art Direction
Lighting & Audio Set-Up
Crew Coordination
Script Supervision
Professional Wardrobe
Hair & Make-Up
World-Class Directing & Creative Supervision
Green Screen Studio Rental

3. Post-Production
Our four non-linear edit suites are ready to produce any type of video media your project demands. Our linear edit suite is equipped with the latest in linear editing tools.
Editing On-Line & Off-Line
Special Effects
Final Graphic
Tracking
Digital Video Encoding
Green Screen
Wire or Sky Replacement
Matting
Website Video Encoding
Facebook, YouTube, Vimeo
Authoring - DVD, CD, Blu Ray Video Authoring & Encoding Service, Packaging

Research & Purchase Air Time for National & Cable Television TV
Research & Purchase Air Time for National & Local Radio - Syndication
Research & Purchase Air Time for Online Digital Marketing - Websites - YouTube, Vimeo, Facebook Advertising
Print Advertising Graphic Design for Magazine, Website, Newspaper, Billboard, Direct Mailing, Flyers, Brochures, Coupon & Special Offer Ad Creation Service

5. Replication & & Retail Ready Packaging Service
Package Design Proof & Printing
High Quality Replication Process
200,000 Disk per day Capacity
Warehousing
Inserting, Folding & Assembly
Shrink wrapping
Packaging

6. Fulfillment & Feedback
Order and Payment Processing
On Site Duplication, Packaging & Mailing Service
Customer Database Management
World-Wide Shipping
Order Tracking
Customer Support & Feedback
Inventory Management
Low cost mailing service
Low monthly minimums

Creative Services
The Creative Team at Custom Video Productions stays current on the latest technology and is ready to infuse your project with State-of-the-Art 3-D Animation and Eye-Popping Motion Graphics. We have a company-wide dedication to client service.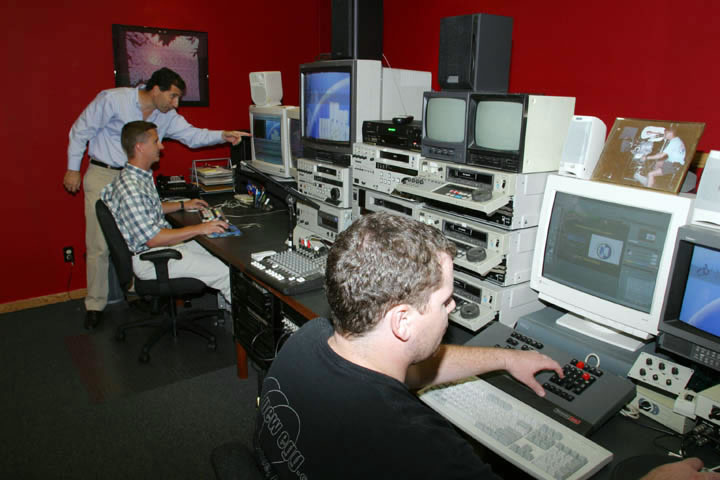 Custom Video Productions Designs and Creates on-line Marketing Solutions that will energize your new or existing marketing strategy.
• Streaming Website Video Production & Editing Service
• Pay-Per-View Video Production
• Order Processing Services
• Streamlined Media Buying, Research and Placement
• Customer Feedback
Video is a great way to promote your business or sell your product!
Professional video is the most engaging medium to tell a story and get people's attention, especially with the growth of the mobile and tablet markets. With the advancement of mobile and camera technology, video is more accessible and built for easy consumption, but it comes with responsibility.
People are facing a barrage of forgettable videos everywhere they go on the web, so you have to stand out from the crowd. Custom Video will make sure your video will stand out!
Personal Coaching / Training
Need a coach to help you look good on camera? We got you covered. We offer professional on-camera training by our on camera professionals. Custom Video makes it easy for you and your video to rise above your competitors. It will be a lot easier when you're guided to be your authentic self in front of the camera. Once you have received our training, you will be confident to share your video business card on your website broadcast throughout the internet.
Why hire Custom Video Productions?
Anyone can go buy a hammer and nails at Home Depot, but you wouldn't hire just anyone to build your house, so why would your standards for crafting an effective marketing or demo video be any different? In both cases, a weak foundation will lead to disastrous results. Professionals train and practice for years to acquire the skills to produce the best-looking images, they use more advanced support equipment, and Custom Video understand more about your marketing / image and intended results than a mere amateur or hobbyist videographer.
The Quality of Your Video Reflects the Quality of Your Company
Custom Video staff has studied their art and craft at a professional institute, or under the mentoring of numerous experienced workers in their field. All of their years of experience adds up to an understanding of how to light a scene just right for the medium on which they are shooting, not to mention the proper camera placement to evoke a certain emotional response. Think about the difference between a well-lit tour of a building, which looks inviting and warm, and a dark and flat video of the same building. Even once the project is shot, the difference between a professional editor who understands how to cut footage together in a specific manner using all of the available tools versus a hobbyist who understands little about theories of editing or marketing impact is enormous.
Your company's image depends on the image you project with your marketing. If your video looks like amateur work or is thrown together haphazardly, your potential clients will see your product or service the same way, not only discouraging them from choosing your company whatsoever, but certainly lowering their willingness to spend money on your brand. Perceived value is very important to customer purchasing decisions. Any money you save on marketing by using a "do-it-yourself" approach to video work or hiring an amateur will be lost many times over in missed opportunities with potential clients who are turned away by amateurish marketing efforts.
Sophisticated Equipment Leads to Polished, Effective Videos
Professionals use a variety of additional tools to enhance the image, including cinema lighting kits with a variety of diffusion tools to shape the light just perfectly, camera support equipment like smooth-motion fluid tripod heads, dolly gear for tracking shots, jibs (mini cranes) for sweeping, grand exterior shots and nifty interior angles, plus many thousands of dollars in editing equipment. A professional editor will often use anywhere from 5 to 10 different software programs to complete one project, all with a very specific purpose as part of the whole, which is crafting the best, most professional video possible with today's technology. An amateur will not only lack the knowledge for how to use all of these programs together, but likely will not have access to the resources that a professional company has available to make a project shine. An amateur can also take 10 times longer to complete the project, with poor results. Just because someone charges less, doesn't mean you will save in the long run.
Custom Video Productions Company Takes Your Video Marketing Seriously
An amateur videographer, or weekend warrior, even with the best intentions will likely not have much of an understanding of the way in which marketing plays a role in video creation. Crafting a nice, professional video is still not very useful for your company without an emphasis on message, delivery, and emotional impact. Your company needs a professional corporate video company that understands how to position the video within your broader marketing campaign, which includes an understanding of social media networks, video sharing Websites like YouTube, Vimeo, Facebook, and dozens of others, and can deliver the video in a variety of formats that work for all mediums. The ability to write professional marketing copy, review marketing materials, and coordinate with professionals in media creation and filmmaking allow a professional company to create a video that is worth the money you spend on it.
With a professional production company crafting your videos, you will give your message the best chance to stand out amongst the competition, not only because of the quality of the video but because of the company's understanding of video as just one part of your overall marketing campaign. Just because you choose Custom Video does not mean you have to spend huge sums of money, however. With today's technology being relatively affordable compared to several decades ago, we can offer professional results on reasonable budgets. The headache and lost business of working with amateurs or trying to do it all yourself is not worth the few dollars saved, when considering how much lost business you risk by alienating your potential customers with videos that reflect poorly on your brand and company image.
Main reasons why to hire a professional video production company? Custom Video offers
· Increased Quality: Investing in a camera and filming a do-it-yourself video or web commercial might seem like a fabulous idea. But, without the proper technical knowledge, as well as the right video production and editing skills, you could end up doing more harm than good. Hiring Custom Video ensures that you receive a high-quality video that will wow potential customers.
· Efficiency: When you're running a business, you know how valuable your time is, and how important it is to use that time wisely. That's why many business owners choose to invest in the services of Custom Videos team with extensive industry experience, rather than attempt to film and edit a video themselves. Custom Video is familiar with industry best practices and will know how to get the most out of your time while filming. An amateur will often take 10 times longer producing low quality results.
· Oversight: Quite often, when editing a video yourself, you can miss something; even the smallest detail could ruin your first impression on a customer or client. Because of this, it's recommended that you work Custom Videos team, trained to provide an extensive review before signing off on any video project.
Top 7 reasons for having a professional video: Custom Video
1. Video Boosts Conversions and Sales
2. Video Shows Great ROI
3. Video Builds Trust
4. Google Loves Videos (increases ranking)
5. Video Appeals to
Mobile
Users
6. Video Engages Even the Laziest Buyers
7. Video Encourages Social Shares
Don't get dazzled by a demo reel.
A lot of production companies host a demo reel on their homepage. Typically, it's a minute-long series of clips from past projects set to music. The purpose is to prove to you that they're an established company with a variety clients. Sounds good, right? What demo reels don't show you is what those finished projects really looked like. You need a video that does more than look pretty: It needs to be effective for your business and communicate the message you're intending to send. Dig deeper into their website and find the actual videos they were hired to create. Don't see any? It's a red flag. Often they work out of their home and don't have insurance either. Any accidents will become your problem.
Always on the Cutting Edge of Technology
We constantly update our equipment to stay on the cutting edge of technology. Our state of the art broadcast quality full-sized 3 chip digital cameras provide excellent, low-light performance and a softer image for our packages. Our HD cameras shoot and edit in true progressive 4k, 8k, 1280x720 60p Blu-ray HD-DVD. Or choose 1920x1080/60i, 1280x24p, 25p, 30p for a more film like look. We also offer high resolution 4K and 8K camera packages along with Drone Video Production.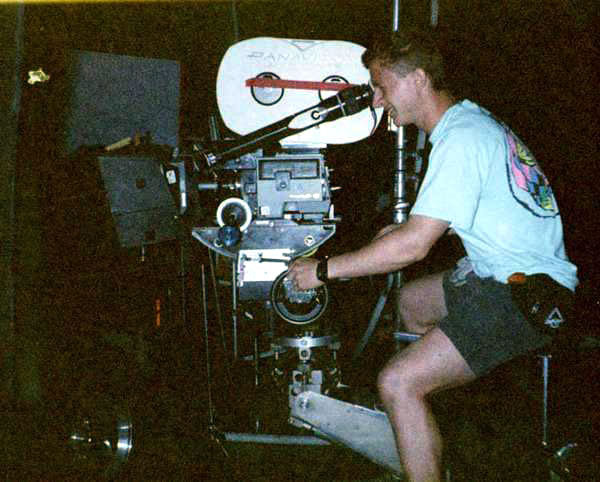 Only CVP uses cameras with full sized broadcast chips and high end broadcast lenses and tripods - the same camcorders to videotape our nationally broadcasted commercials. Our stable vibrant color and image quality can't be beat. Come to our office and see for yourself. We stand behind what we say.
Video Samples
(See More Videos on our Facebook Page)
YouTube: http://www.youtube.com/user/CustomVideodotTV#g/u
Redondo Beach Unified School District
Measure C Video
Western Federal - https://www.youtube.com/watch?v=UxuP_UAxokI
El Camino College - https://www.youtube.com/watch?v=0maT5ND-H_k
Rio Grande Gamers - https://www.youtube.com/watch?v=POOSQdLDGM4
Realtor - https://www.youtube.com/watch?v=HmShmxwvC4c
Aerial Video Production Sample shot in HD with Drone
Aerial Video Production Night Sample shot in HD with Drone
Vintage videos produced since 1990:
South Bay Spotlight - https://www.youtube.com/watch?v=S3ONuOUCSAs
Interview of Millionaire - https://www.youtube.com/watch?v=C6jbbNDYDDc

Aztec Tents & Events - FLASH
dsl mov rm wmv
56k mov rm wmv

Brian Wilson - FLASH
dsl mov rm wmv
56k mov rm wmv

Colarossi Painting - FLASH
dsl mov rm wmv
56k mov rm wmv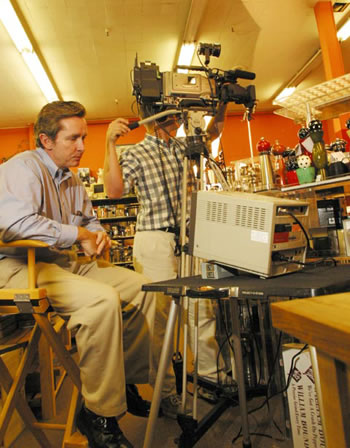 Cook N Stuff - FLASH
dsl mov rm wmv
56k mov rm wmv

Cornerstone - FLASH
dsl mov rm wmv
56k mov rm wmv

C USA Women's Basketball - FLASH
dsl mov rm wmv
56k mov rm wmv

Excellence - FLASH
dsl mov rm wmv
56k mov rm wmv

Farmers - FLASH
dsl mov rm wmv
56k mov rm wmv

Game Time Decision - FLASH
dsl mov rm wmv
56k mov rm wmv

GMAC - FLASH
dsl mov rm wmv
56k mov rm wmv

GoodNite Mattress - FLASH
dsl mov rm wmv
56k mov rm wmv

Hawthorne Bank - FLASH
dsl mov rm wmv
56k mov rm wmv

Honda - FLASH
dsl mov rm wmv
56k mov rm wmv

NCAA - FLASH
dsl mov rm wmv
56k mov rm wmv

Motor City - FLASH
dsl mov rm wmv
56k mov rm wmv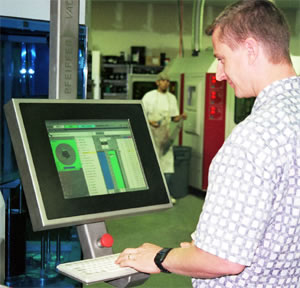 Neighborhood Senior Care - FLASH
dsl mov rm wmv
56k mov rm wmv

Red Carpet USA - FLASH
dsl mov rm wmv
56k mov rm wmv

Sir Speedy - FLASH
dsl mov rm wmv
56k mov rm wmv

South Bay Spotlight - FLASH
dsl mov rm wmv
56k mov rm wmv

Spice Device - FLASH
dsl mov rm wmv
56k mov rm wmv

University of Louisville - FLASH
dsl mov rm wmv
56k mov rm wmv

Westpoint - FLASH
dsl mov rm wmv
56k mov rm wmv

ALL YOUR PRODUCTION SERVICE NEEDS!
Custom Video Productions is a division of South Bay Custom Video Productions Incorporated since 1990. We are known for our great price, quality and service. We can Video any event including performances, plays, demo, etc. We serve the entire United States, including Florida and California (Los Angeles, Redondo Beach, Palos Verdes, Rancho Palos Verdes, Palos Verdes Estates, Manhattan Beach, Hermosa Beach, San Pedro, Torrance, Lawndale, Hawthorne, El Segundo, Carson, Westchester, Gardena, Long Beach, and Harbor City, CA, Beach Cities, South Bay, So-Cal, Southern, California). We are one of the only able to fly our aerial video drone for commercial purposes approved through the FAA with section 333 exception permit number 12950 and Regulatory Docket no. FAA-2015-2573.
Our phone number is 1(310)-543-4901 or Text 1-424-241-3555
707 Torrance Boulevard, Suite 105, Redondo Beach, CA 90277
(at Irena between Prospect and PCH)
Monday - Friday: 9:00 am to 5:00 pm, and by appointment